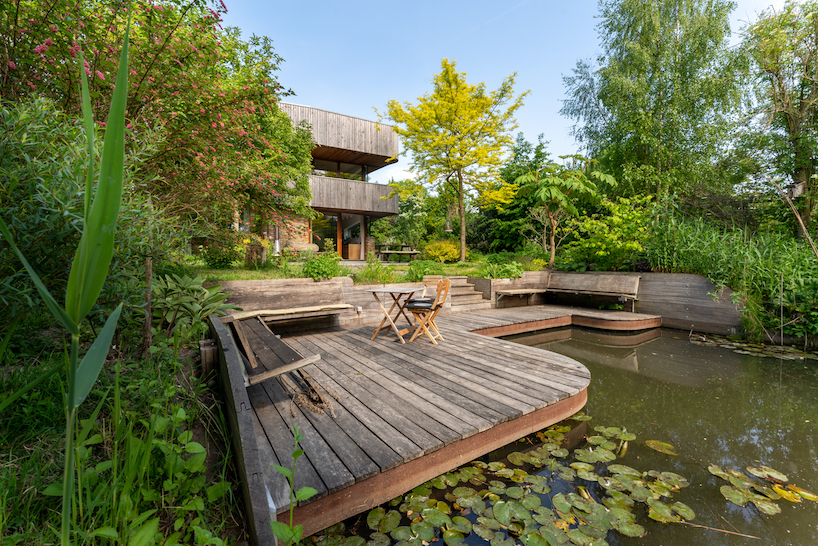 dynamic curved wooden volumes render camping villa's organic… – Designboom
a camping villa blends with the greenery along the IJ Riverfront
123DV Modern Villas by designer Liong Lie takes over the project of a 'camping villa' intended for nature lovers located in the sustainable Camping Zeeburg in Amsterdam . Enclosed in the rich greenery of the campsite, the temporary residence stands on its own camping grounds undisturbed alongside an abundance of trees, plants, and bodies of water. The project aims to create a private space within the public zone of the site where outdoor living takes center stage in the green area along the IJ River. A wooden facade frames the front of the house while the ground floor, slightly recessed, forms a secure and intimate area. The building blends into its green surroundings and opens up on the garden side merging the interior and outdoor space through openable glass doors and a path to the additional waterfront terrace.

garden side facade with waterside terrace | all images by Hannah Anthonysz
123DV's temporary home sets up a wooden organic facade
Made entirely out of wood, the building blends well with its natural surroundings. The layering of the modern facade gives an organic quirk to the structure that forms a rather angular front face, but a curved volume toward the garden with large windows that sit slightly set back from the wooden skin or run off the grid, giving unexpected movement and contours. The interior seems to have retreated safely and comfortably within the firm embrace from the robust exterior. The studio space on the side shapes an asymmetrical strip window at eye level, providing special light and leaving plenty of wall space and focus for working.
The ceilings set up a wooden cladding, enhancing the feeling of security and coziness. The particular dynamic curved lines of the building are additionally highlighted. Spacious rooms alternate along with narrow passages to the hall and stairs. On the upper level, in addition to the bedrooms, the plan lays out a study room overlooking the private backyard of the property through a spacious wooden outdoor-working balcony. 'The owners were looking for a sustainable, secure, cozy, adventurous atmosphere like that of a Swiss mountain lodge. We translated this into playful floor plans and the use of rugged, earthy materials such as natural stone and a lot of wood' , comments the designer .

front facade

facade garden side