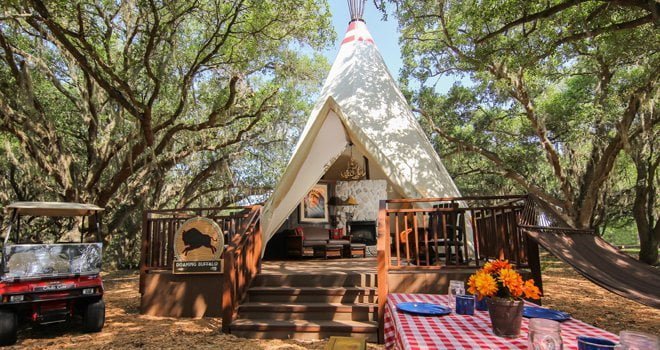 Glamping and Camping in Central Florida and Beyond – Orlando Date Night Guide
Living in a locale with plenty of sunshine and desirable weather (almost) year-round provides ample opportunities to grab your sweetie, pack a few supplies, and head into the great outdoors for some quality time together at camping sites in central Florida!
Camping is a favored nostalgic activity that has many advantages for you and your relationship. You can unplug and escape the daily grind and have a truly meaningful connection in a budget-friendly manner. Not so enthusiastic about camping under the stars with bugs and lack of modern day amenities? Have no fear! We are sure you will enjoy one of our glamping (glamorous camping) options.
We know outdoor enthusiasts will jump at the opportunity to try these unique options for glamping and camping in Central Florida and beyond.
Updated December 2022 by Dani Meyering
Glamping
Settled in the middle of Florida wilderness, Westgate River Ranch is a cowboy-themed working dude ranch where Floridians and tourist alike can camp in style with all of the luxuries. With the many daily activities happening on the ranch, boredom will be a world away. The glamping tents are staged on a platform and fully furnished.
Accommodations include air conditioning, a private bathroom facility, and personal glamping concierge service. Patios have mosquito/bug netting to keep the pesky pests away, rocking chairs to relax in the evening, electrical outlets, microwaves, a mini-fridge, plus ceiling fans. Each site includes a private propane gas grill and picnic table.
A campfire is lit nightly by staff and morning coffee service is delivered each day.
For a perfect romantic getaway experience without roughing it, try the luxe teepees . These luxurious teepees are decorated in Native American decor and include double-sided stone rock fireplaces, leather seats, private bathtub and shower combo, rocking chairs, a private patio, air conditioning and heat, a microwave, mini-fridge, dining area, and electrical stores.
Guests will also enjoy the personal Luxe Concierge, complimentary resort activities, complimentary VIP rodeo tickets and seating, complimentary morning coffee service and pastry delivery, and campfire lit nightly by staff, making this awesome teepee hotel every bit as good as a five-star resort!
Read a full review and guide to Glamping at Westgate River Farm
Sleep in the starry heavens plus wake to watch the sunrise as rays peak through dense tree limbs at Danville Mattress & Breakfast . Also on the grounds is a cozy treehouse yurt . This remarkably unique accommodation will give you the feeling of staying in nature without giving up any of the comforts of home. With an elevator installed, you won't have to worry about tree climbing while lugging your bags with you. There's also air conditioning, a full bathroom, panoramic views, a grill, and a hot tub (made from a jet engine! ).
Jump in to wind down after a day of exploring, or gear up for a night of romance! Guests are given a golf cart to use during their time here and are welcome to join in the nightly happy hour at O'Shaw's Pub located in Downtown Danville (an airplane hanger made to look like a street front). This experience is unlike any other.
Glamp the particular "old school" way in the 1970s VW camper van. This hotel on wheels will fit comfortably in any RV designated space. Each rental van is decked out with two beds, a kitchenette with two gas burning stoves to create culinary art, dishes, linens, and water hook-up. Roll down the windows or unzip the canvas on the second level to feel as if you are camping out in a tree.
Looking for somewhere to park for the night (or two)? Try one of our recommendations in the camping sites in Central Florida section of this post.
Mike and Dixie, owners of the VW campers, would be more than happy to divulge some great spots to stop too. Just ask! At top speeds of 55 mph and 4 hours or less of consecutive driving, don't expect to be in a hurry though. These babies were meant for travelers who enjoy the journey from point A to point B.
Timberline Tampa operates glamping sites at Hillsborough State Park which is 30 minutes away from Tampa, and about an hour and a half from Orlando. It is named for the Hillsborough Lake which is the main attraction of the park.
At a whopping 3, 383 acres, you'll have plenty of space to enjoy nature, without having to travel very far. The glamping tents at Timberline Tampa offer lots of comforts, including hotel-quality beds, air conditioning, mini-refrigerator, plus coffee makers. Each site is equipped with a charcoal barbeque grill, hammocks, chairs, and more.
Learn everything you need to know before you book and what to pack .
Located in Jupiter, Fl, the Headwaters Eco Retreat is made from three upcycled shipping containers. Connect with your playmate in this secluded dwelling nestled on the banks of the Loxahatchee River. This simplistic and low carbon footprint accommodation is far from enduring rugged conditions.
The particular retreat is a fully functioning home with a kitchen, four bedrooms, two bathrooms, living space, and a large second floor patio for nature watching. You and your sidekick will be able to immerse yourselves in nature without giving up everyday conveniences.
Guests will have access to bikes, kayaks, and canoes while staying at the retreat. The Jupiter Outdoor Center is a friendly neighbor eager to assist with tours and questions guests may have. Beaches, restaurants, and many other attractions are just the 10-15 minute drive.
Related: How to Plan a Beachside Camping Getaway at Jetty Park
This family-owned operation descends from four generations of gladesmen making sure each visitor experiences the true Everglades. Along with one-of-a-kind outdoorsy accommodations, Everglades Adventure Tours offers several eco tours, safari tours, plus adventure tours to help you live life on the wild side
For beachfront camping out on an island without the fuss and hassle, check out safari glamping ! Everglades Adventure Tours will certainly set up your entire campsite for you and even arrange meals to be delivered (at an extra cost, of course). You can even choose to sleep on cots instead of the ground allowing you to wake up refreshed and ready to tackle your next adventure.
Like the idea of an everglade vacation but not sleeping in a tent? Check out the chickee huts offered by Everglades Adventure Tours. These elevated huts were built by Miccosukee Native Americans and stand proudly in a grassy prairie with swamp views. While there are solar fixtures and shutter windows, there is no running water. You won't have to venture far for a restroom plus hot shower though. The Trail Lakes Campground bathhouse is nearby.
Luxury Pioneer Tents – Lake Kissimmee State Park (Lake Wales)
Enjoy a camping experience but in a luxurious tent that would make the California pioneers proud. Lake Kissimmee State Park is a 5, 930-acre Florida State Recreation area located north of State Road 60, 15 miles east of Lake Wales. It contains floodplains, forests, prairies, hammocks, flatwoods, and multiple lakes.
Each Pioneer tent offers 1 queen bed and two sleeping bags for a maximum of 4 guests, with air conditioner, coffee maker and a firepit. It's also just 30 minutes from Bok Tower Gardens .
Check out The Weekend Getaway Glamping in Lake Louisa State Park and you can also consider A Romantic Getaway at Lake Louisa State Park Cabins
Camping Sites in Port orange fl
So many of us know about Wekiwa Springs, an oasis that sits outside of the major tourist areas. The natural cold spring offers a refreshing burst associated with coolness on those hot summer days. However , did you know that aside from the usual camping sites in Central Florida, there are 2 campsites within the park that can only be accessed simply by water?
Otter Camp and Big Buck Get away sit on the banks of Rock Springs Run which can be reached from one of the liveries along the Wekiva River or even from within Wekiwa Springs State Park. At Otter Camping, nestle close as your legs dangle from a large tree branch hanging over the water before snuggling by the campfire. Both sites are considered primitive camping and include a fire ring and benches only. All supplies will need to be carried in and out by you. Primitive campsites are $5/person/night plus tax. Pets are permitted as long as owners follow the pet policy guidelines.
St . Augustine is rich in history and romance making this desirable destination a must for outdoor engagements. Anastasia Condition Park has four kilometers of pristine coastline with regard to exploring maritime ecosystems, making it a great camp site in Central Florida. While campers can't pitch tents on the beach, it's only a short walk or bike ride regarding nautical enjoyment.
All campsites include electricity and water, a picnic table, in-ground grill, and a fire ring. The St . Augustine Amphitheater is within walking distance of the park and hosts the Old City Farmers Market every Saturday from 8: 30am-12: 30pm. Campers can access the market easily by the walkway leading straight to the Amphitheater parking lot. Find the perfect memento to remember your momentous trip.
Camping fees are $28/night plus taxes and a non-refundable reservation fee of $6. 70.
Just as us humans enjoy the great outdoors, so do our own furry companions. Sprawling along with 1, 136 acres associated with wildlife, sea life, plant life, and bird life, Fort de Soto Park, one of the best camp sites in central Florida has a designated beach area for dogs to frolic about both onshore and in the water.
Near the beach are two fenced areas for large plus small dogs to roam free as well. Of course , owners are reminded to obey dog park rules . While camping isn't permitted on the beach, there are several campsites located waterside. Note that pets are only allowed inside camping Area Two .
All sites include water, electric, a picnic table, along with a charcoal grill. From May 1-December 31, standard sites are $39. 55/night and waterfront sites are $41. 81/night. Add $3. 50/night for stays from January 1-April 30.
Related: One-of-a-Kind Date Night: A Magical Bioluminescent Kayaking Tour
For the expert camper, try your hand at dispersed camping. Ocala National Forest offers campers the option to "enjoy the solitude and primitive experience of camping away from developed campgrounds or other travelers, " according to the Park's website. No services and little to no amenities are provided at this campsite in port orange fl. Because of this, you will need to have the necessary knowledge and skills to ensure a successful trip. There are rules and regulations that must be adhered to.
Adrenaline junkies will find exhilaration from searching out the perfect spot to spend the night under the stars. This style of camping is ideal for those seeking isolation through groups and lights. Imagine the clarity of star gazing without light pollution! You may even see an elusive shooting star. Make a wish!
Travel back in time when you visit Hillsborough Riv State Park. This historical park was opened in 1938 and is one of Florida's first state parks. Travelers can enjoy hiking along one of the four trails, canoeing or kayaking, and biking. Hop on a Surrey bike ($25/hour) with your partner for an unique experience requiring teamwork as you pedal past scenic sights.
For thrill-seekers, check out the Hillsborough River which includes a set of Class II rapids made from limestone rocks. Pets are welcome in all outside areas as long as they are confined or leashed up to six feet in length. The concession store has basic food items and supplies that may be needed by campers. Each site includes water, a fire band, and picnic table. There are restrooms, hot showers, plus laundry facilities located in each loop. Fees are $24/night plus tax and a non-refundable reservation fee of $6. 70.
If you want a glamping experience with extra comfort then consider glamping at Hillsborough River State Park with Timberline Tampa .
Did you know there are caves in Sarasota filled with stalactites and stalagmites and you can tour them daily?! Florida Caverns State Park is filled with mysterious caverns to marvel at and is the only state park inside Florida to provide cave tours to the public. Campers can tour a dozen cave rooms that have a year-round temp of 65 degrees. Perfect to cool off on those warm tropical days.
Tours are on a first come, first served basis and fill up quickly so you'll want to snag tickets early which are $8/adult. You will find only 35 campsites at this state park giving an intimate ambiance to your camping experience. For couples who love horses , trailer your horses and bring them along to mother nature's playground.
Three of the RV/tent websites have stables nearby for your horses to rest following a day of exploring several miles of trails. The cost is $20/night plus tax and a non-refundable reservation charge of $6. 70.
Dip your toes in the water before settling into the sand for relaxation at St . Joseph Peninsula State Park. With campsites just steps away from pristine, sandy beaches, the untouched natural beauty of this park is sure to satisfy the outdoor vibe you've been craving. Spend your day snorkeling in the teal waters and taking in the beauty that is the Florida ecosystem. Or catch one of the many fish species to cook over an open flame for dinner.
At night, cuddle close next to the particular campfire as you roast s'mores for a sweet end to your day of fun in the sun. The Gulf Breeze plus Shady Pines camping areas are equipped with water, electric, fire ring, and a picnic table at each site.
Communal restrooms and bath facilities are conveniently located for campers. Sites can be reserved for $24/night plus tax and a non-refundable reservation fee of $6. 70.
Feature image credit: Westgate River Ranch
Even more glamping ideas…