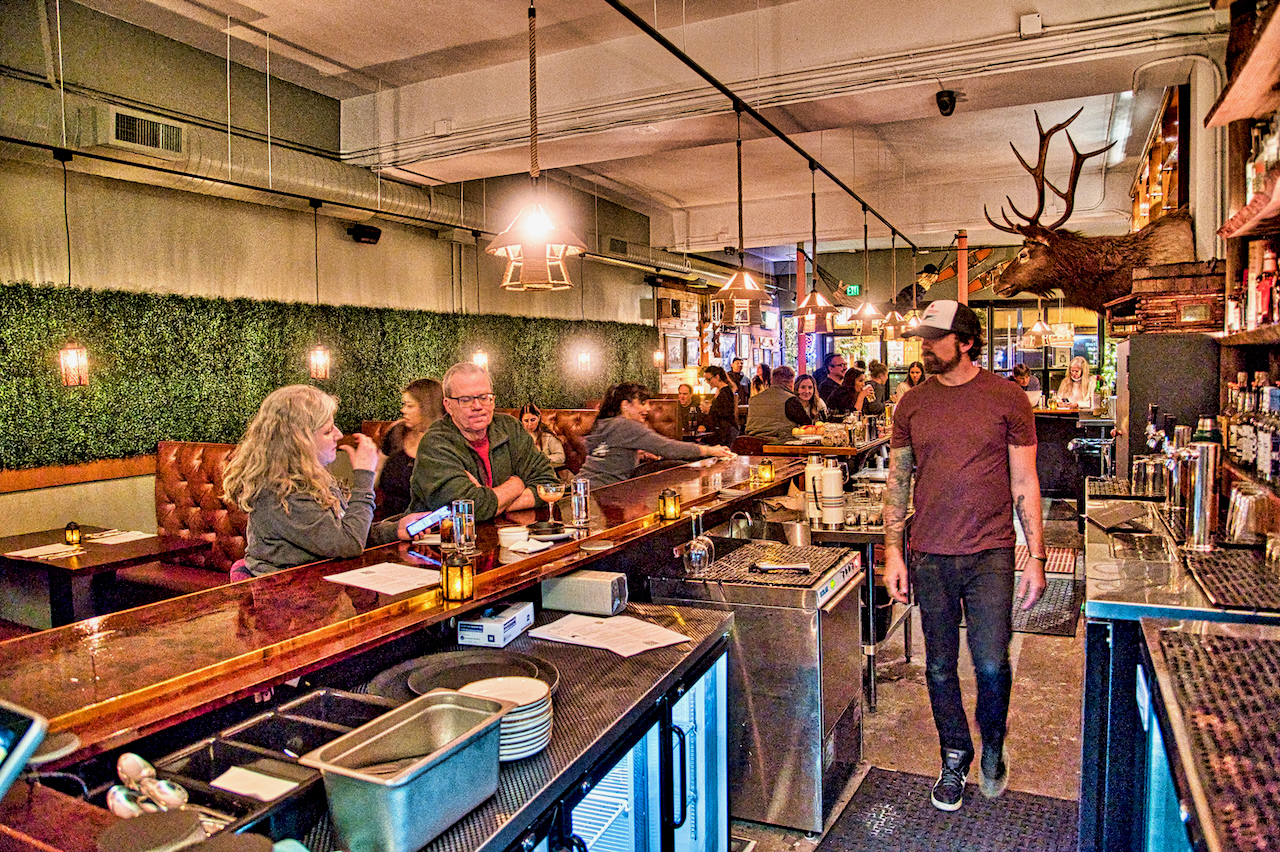 Take a trip to Camp West; Outdoor themed restaurant is clever, curious and fun – Westside Seattle
Patrick Haight, Co-Owner of Camp West in the West Seattle Junction has crafted and curated a collection of camp related foods, decor, themes and more.
Photo by Patrick Robinson
Camp West restaurant and bar is now open (technically) in the West Seattle Junction and it is all about the outdoor, camping theme from the decoration to the food and drink. But it's honestly more like what is known as "Glamping" since this is anything but roughing it. Co-Owner Meat Haight has done this once before in Tacoma at the Camp Bar and it was a natural to bring that experience to this location. It's located in the former West 5 at 4539 California Ave SW, which closed last February . Camp West is also owned by Toni Uy and Nuri Aydinel (he also owns Kizuki Ramen). Toni managed Western 5 for 15 yrs and was able to be part owner of the space she loved as well and make it her own.
Right now the business is in soft open mode and is slated to officially open up on the 23rd, "but there is a strong chance we will accept some walk-ins prior seeing how our team is progressing and learning quickly the standards we are setting, " said Haight.
It was a few months in the making, due to supply chain issues but new gear was finally installed plus Haight was able to add his personal quirky touches that add whimsy to the theme. Woodsy dioramas, paint by number outdoor paintings gleaned from garage sales, and emblematic elements are all part of the mix. Artist Andrew Miller created the mural inside and the logo signage outdoors.
Above the bar is a large elk head named Rocky keeps an eye on everything.
Camp West, unlike its predecessor is not open for lunch and is now 21+ only and as such the interior railing that kept the bar apart from the booths is now gone. The effect is to make the space seem wider.
Haight is a veteran in the hospitality industry, His background includes managing Tini Biggs, the Hula Tiki bar, and time as the Food and Beverage Operations Manager for Snoqualmie Casino. He is also the creator of BroVo Amaro which usually won both a silver and gold medal. That is available at Camp West now too. He's also an expert mixologist. So much so that he co-wrote a book with Kieth Robbins in 2005, Tini Biggs Big Martinis. He knows his cocktails.
The food is eclectic but familiar since it ranges from Seared Steelhead, to Mac and Cheese, foods you might actually have if you were camping. Burgers, salads and more round out the menu (see below).
Unique to the camp bar theme is the "Snacklebox" presented in a fishing tacklebox packed with meats, cheeses, olives, nuts and crostini. It's fun and flavorful.
The beverage menu is so extensive that it's literally behind a QR code on the menu (linked below too). But it includes some unusual and some rare selections. Signature cocktails include the One Eyed Squirrel, the Airstream cocktail, Sweaty Lumberjack, Smokey the Bear Juice, the Hairy Woodsman plus an award winning Manhattan. You'll find Colonel EH Taylor Single Barrel whiskey, Lagavulin 11 year Offerman Edition scotch and Bozal Cenizo Single Maguey plus Pasote Reposado Tequila at Camp Western world.
Given the fact that they are new, and there's likely to be a crush getting in, reservations are recommended.
Camp West is open from 4pm to 10pm weekdays, till midnight on weekends, and they are closed Monday and Tuesday.
The "Snacklebox"appetizer offers meats, cheeses, crostini nuts and olives in a clever presentation. Photo by Patrick Robinson

CAMP WEST MENU

SALADS & SOUP

MIXED GREEN SALAD 7 / 13

balsamic vinaigrette, crumbled blue cheese, candied walnuts, fried shallots

ROMAINE SALAD 8 / 14

gf

flower crab, green goddess, shaved fennel, cherry tomatoes

MEDITERRANEAN PASTA SALAD 8

salami, olives, red onion, cucumber, tomato, parsley, feta, red wine vinaigrette

+ crostini 2

SAMMIES

served w/ tots,

salad +2, gf bun +1, beyond meat +2

HOT HAM & CHEESE 12

home made parmesan cheese blend on marina bakery sourdough, dijonnaise sauce, pickled cabbage

SPICY CRUNCHY CHICKEN SANDWICH 13

all natural mountaire farm chicken thigh, chili garlic marinade, comeback sauce, pickles, iceberg, shaved white onion

CAMP WEST BURGER 15

1/3 lb grass fed patty, american cheese, LOTP, in-house camper sauce, on a marina bakery sodo roll

LUMBERJACK BURGER 18

2 all natural schenk farm cattle patties, mama lil's peppers, house blend cheese, bacon, LOTP

BUENA VISTA SAMMICH CLUB 14

brined and slow cooked pig, caramelized onions, garlic aioli sauce on marina bakery bui bun
SIDES

flower crab (2 oz) 6

smoked salmon (3oz) 6

1 home made bacon bits ( cuban pork (4 oz) 3

tots 4

crostini (4) 3

SHARABLES

TOTCHOS 11 gf

campers 4 cheese blend, pico de gallo, black beans

+ cuban pork four

SNACKLE BOX 13

hunters choice of meats, cheeses & goodies

+ in-house smoked salmon 6

CHEESE DIP 7

roasted garlic & caramelized onion dip, w/ home made salt & pepper potato chips

gf

ENTREES

MUSHROOM CASSOULET 14

great northern, black & pinto beans, oyster and cremini mushrooms, garlic, shallot, thyme, and breadcrumbs, with a side salad

+flower crab 6

gf & v

SEARED STEELHEAD FILLET 28

smoked plus seared, roasted fingerling taters & mushrooms, onion soubise, basil-garlic pistou

gf

CHICKEN & DUMPLINGS 12

stewed mountaire farm chicken & veggies, along with poached dumplings, complemented having a red wine vinaigrette side greens

MAC & CHEESE 10

chefs elbow noodles, creamy house-made parmesan cheese blend, topped w/ herb breadcrumbs

+ cuban pork 4

+ flower crab six

Desserts

smores 7

deep dish cookie seven

You can really relax at Camp West. Photo by Patrick Johnson