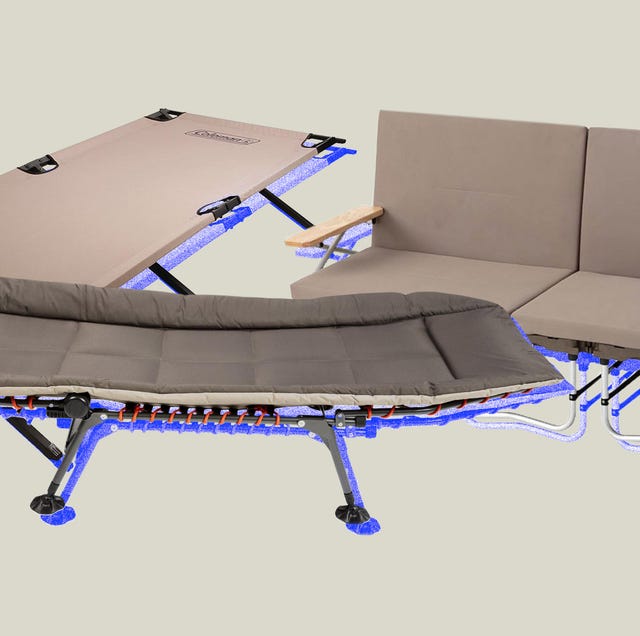 The 10 Best Camping Cots for a Better Night's Sleep Outdoors – Gear Patrol
Gear Patrol
Tossing and turning in your tent? Get off the ground and upgrade your camp bedding, figuratively and literally, with a quality camping cot. A camping cot supports you more like an actual bed, which can make a huge difference in sleep quality. It's also a heck of a lot easier to get in and out of than something close to the ground – a welcome feature for older or stiff-muscled campers.
Along with your carefully selected sleeping bag, cots also help to regulate body temperature. In chilly weather, a cot keeps you off the cold ground. In the heat, it allows for free air circulation below to keep you cool. Due to their relatively large folded size and heavy weight, they are best used when the campsite is close to the car. In most cases, setup is a breeze and only takes few minutes.
What to Consider When Buying a Camp Cot
One of the most important things to look at when buying a cot is size. You want to make sure you have plenty of sleep surface area so you're not hanging off the sides. By default, I'd recommend going big. No one ever says, "I wish I had a smaller bed."
Typically, the stated manufacturer dimensions measure the entire top of the cot, which includes the area over the crossbars. So, unless you like sleeping on metal rods, I'd subtract 3 inches from the length and width to avoid rubbing.
Whether you're a side, back, or light sleeper, these cots will help you get the shuteye you need to tackle whatever the next day's adventure may bring.
Advertisement – Continue Reading Below
BEST OVERALL
Kingdom Cot 3
Lil' dip in the middle. may bug some
Remarkably soft and cushy, this cot checks all the boxes: super comfortable, well-built, easy to set up and fairly priced. Because of its soft 1.5-inch pad topping a stretchy cord around the aluminum/steel tubing, it's one of the comfiest cots on the market. It also happens to be one of the longest at 82 inches, enough length for a 6'6″-tall person. It packs up a bit bulky by folding like a beach chair, but given its size and comfort level, that's expected. One word of caution — especially for stomach sleepers — the sleeping surface does dip down in the middle. It's slight but noticeable.
Unfolded dimensions: 82 inches x 31.5 inches x 14 inches
Folded dimensions: 33 inches x 32 inches x 8.5 inches
Weight capacity: 300 pounds
Weight: 20 pounds
BEST UPGRADE PICK
Snow Peak Campfield Futon Starter Set
Home quality build and aesthetics
For the ultimate in luxury camping that is sure to make you the envy of any campground, the Snow Peak Campfield Futon brings home-quality furniture to your campsite. This versatile camping furniture can be configured as a cot, couch, two arm chairs with a coffee table or three separate storage racks. The cushions are roughly three inches thick and super comfortable whether sitting or lying down. Is it overkill? Perhaps, but you'll definitely be damn relaxed while pondering that question.
Unfolded dimensions: 58.8 inches x 29.5 inches x 12 inches
Weight: 38 pounds
BEST BUDGET CAMPING COT
Coleman Trailhead II Cot
Affordable and straighforward
On the heavier side for its size
This military-style cot is simple and gets the job done. The stretched canvas is comfortable but not as durable as some of the pricier cots. It will have a longer life span for people well under the 300-pound weight capacity. It's a bit heavy when packed up and takes some muscle to put together, but once it's up, it's sturdy and comfortable. Ultimately, for half the price of most cots, it packs quite a lot of value.
Unfolded dimensions: 73 inches x 35 inches x 17 inches
Folded dimensions: 41 inches x 9.7 inches x 7.5 inches
Weight capacity: 300 pounds
Weight: 20.9 pounds
Most Comfortable Camping Cot
Coleman Twin Airbed Folding Cot
Included nightstand adds camp luxury
Not for the minimalists among us
You'll make your friends jealous with this part cot, part air mattress sleep set-up. Just shy of the comfort of your bed at home, the air mattress is 7 inches thick and supported by a sturdy folding steel frame. The cot comes with an air pump to inflate it. Oh and there's one other clever, handy touch — a foldout nightstand with a cup holder. How cool is that?
Unfolded dimensions: 74 inches x 40 inches x 23.5 inches
Folded dimensions: 39 inches x 11 inches x 10.5 inches
Weight capacity: 300 pounds
Weight: 13.8 pounds
Most Portable Camping Cot
Helinox Cot One Convertible
When it comes to lightweight and portable camping furniture, nobody builds higher quality products than Helinox. The Cot One Convertible weighs just over five pounds and takes up roughly the same amount of space as a packed tent. Set-up is straightforward and takes less than three minutes once you get the hang of it. It features an innovative lever system that creates a taut, even sleeping surface every time. If you're a space and weight saver but don't want to sacrifice comfort, look no further.
Unfolded dimensions: 75 inches x 27 inches x 6.5 inches
Folded dimensions: 21 inches x 6 inches x 6 inches
Weight capacity: 350 pounds
Weight: 5.1 pounds
Best Camping Cot for Couples
Coleman Queen Airbed Folding Cot
Cozy and comfy camp experience
You and your partner will sleep like a rock on this queen-size air mattress/cot combo. It has the same features as our Most Comfortable pick, just larger — one inch shy of standard queen specs. If you're going the sleeping bag route rather than a camp blanket, we recommend a double for comfort's sake. The air mattress/cot combo is the way to go for two people, so you're not divided by a hard, metal center crossbar. Yes, this one has two night stands.
Unfolded dimensions: 78 inches x 59 inches x 22 inches
Folded dimensions: 39 inches x 11 inches x 10.5 inches
Weight capacity: 600 pounds
Weight: 41.9 pounds
Best Camping Cot for Big and Tall
Teton Sports Outfitter XXL Camping Cot
Fits even the tallest sleepers
Whether you're big, tall, or just want to sprawl out, the Teton Sports Outfitter XXL boasts a whopping 7 feet in length and 3.4 feet in width. Size isn't the only impressive stat — it has twice the weight capacity of the average cot. Pair it with the Outfitter XXL Camp Pad ($99) for added cushioning.
Unfolded dimensions: 85 inches x 40 inches x 19 inches
Folded dimensions: 42 inches x 12 inches x 7 inches
Weight capacity: 600 pounds
Weight: 26 pounds
Easiest Set-Up Camping Cot
Coleman ComfortSmart Deluxe Cot
Sets up in less than 5 minutes
This surprisingly luxurious cot gets its comfort from spring coils and roughly 2 inches of foam padding. We recommend the deluxe size, as the regular is quite small. Set-up couldn't be easier: simply unfold, snap the legs in place, and snooze. The easy set-up does come at a cost: it packs up fairly large so it's best for campsites very close to your car.
Unfolded dimensions: 80 inches x 30 inches x 15 inches
Folded dimensions: 39.1 inches x 31.9 inches x 6.8 inches
Weight capacity: 300 pounds
Weight: 21.5 pounds
Best Camping Cot for Kids
Disc-O-Bed Large Cam-O-Bunk
Makes camping extra fun for kids
Someone is always fighting for top bunk
What kid doesn't love a bunk bed? This super comfortable cot system can be used as two separate cots, a bench, or a space-saving bunk. There are 21 inches of clearance between beds, and the powder-coated, anti-rust steel frame is super sturdy. It's heavy and packs up large but well worth it if you have the space. All that's left is figuring out which kid is going to sleep on the top.
Unfolded dimensions: 79 inches x 28 inches (sleeping area); 82 inches x 32.5 inches x 36 inches (outer)
Folded dimensions: 32.5 inches x 15 inches x 5 inches
Weight capacity: 500 pounds per cot
Weight: 60 pounds
Best Camping Cot for Dogs
Helinox Elevated Dog Cot
Extra weight to lug around… for your dog.
Don't exclude your furry friend from having the same comfortable camping experience as you. Made by Helinox, the best company for premium packable furniture, this dog-specific cot is easy to set up, lightweight and super portable.
Unfolded dimensions: 35.5 inches x 23.5 inches x 8.5 inches
Folded dimensions: 22.5 inches x 5.5 inches x 5.5 inches
Weight capacity: 132 pounds
Weight: 2.7 pounds
This content is created and maintained by a third party, and imported onto this page to help users provide their email addresses. You may be able to find more information about this and similar content at piano.io
Advertisement – Continue Reading Below