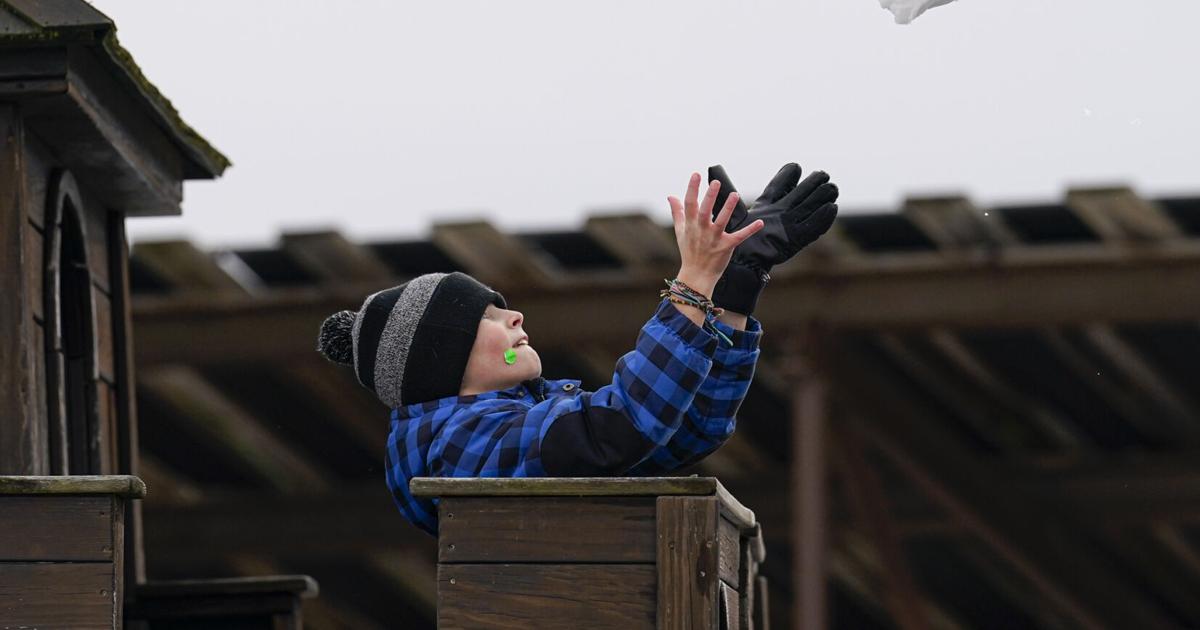 Winter Camp Shalom seeks to build community along with snow forts – Madison. com
The outdoor swimming pool at Camp Shalom, now drained, is gathering snow, and the lawn chairs on the deck look lonely.
But for those attending a winter camp last week, time at the pool was replaced by building snow forts, sledding and snowball fights. The timing was lucky since some of the snow is now melted.
"I like summer because you get to go swimming, " fourth-grader Arabella Martin said. "And I like winter because you can at least have snowball fights plus play (in the snow) with the camp counselors. "
Winter Camp Shalom ran for three days, which was an abbreviated form of the normal summer day camp run every year by the Jewish Federation of Madison at the Irwin A. and Robert D. Goodman Jewish Community Campus in Verona.
While Camp Shalom was established in 1954, the winter version started in 2018 but wasn't held in 2020 because of the COVID-19 pandemic.
"We really want to be a welcoming space for the community, " said Sam Toso, director of programming at Camp Shalom. "We hope the kids walk away with a sense of community. "
The camp drew 80 kindergartners through fifth-graders from all over the area. Some thought they were the only ones from their school but they talked about meeting new friends.
"If you've been here long enough, it just kind of works out, " fifth-grader Mason Tyler said about making friends.
The camp featured group time, art and nature activities and challenges such as building snow forts or making marble roller-coaster runs.
Some time was spent celebrating Shabbat, Judaism's day of rest observed on Friday evening. It is one of the ways Camp Shalom teaches a bit about Hebrew and Jewish culture plus values.
The start and end of each day were marked by a "rally" — a song session featuring typical camp songs and some that are more traditional for Jewish camp.
"We want to make sure it is simple enough so everyone can participate and it is a time when we can get our energy up together, " Toso said.
On the last day the campers had a New Year's Eve party with activities including an inflatable bouncy house and obstacle course, making party hats, a photo wall and party games.
Third-grader Claire Tyre said activities campers would normally do outside were being done inside. She liked playing in the snow.
Fourth-grader Luzia Rodriquez said she likes the rally time because she likes singing with everyone else.
"You don't have to get a bunch of gear on to go outside, " Luzia said about the difference between summer and winter get away.
Luzia's sister, fifth-grader Zola Rodriquez, said her team for the snow-fort challenge has been made up of the older students at the camp. They built the biggest snow fort, which won for being the most stable. The other groups also won for other aspects of the particular snow-fort-building challenge, she stated.
Second-grader Ben Corrigan stated he likes the summer sessions because they are longer. He mentioned on Thursday his favorite activity so far was making snow scenes, which involved placing nature objects in a jar with snow. He was quite proud that he thought to set the plastic eagle in his jar so that the tips of its wings were braced on the sides of the jar. When he shook the jar like a snow globe, the eagle stayed in place so it was still flying.
Kaylee Annen-Ziino, a senior counselor who started attending Get away Shalom herself as a kindergartner, is studying early education at Madison Area Technical College and working in the jewelry store. She said she has been at the camping for so long it feels like a second home and the staff feels like a mini family.
The camp is a chance to learn how to build relationships and learn how to treat others, Annen-Ziino said. She said she was a spirited and active child whose time in the camp was marked from the full spectrum of emotions but that provided opportunities to learn.
"I hope, honestly, it is a growing-up opportunity, " Annen-Ziino said about the camp.
Emmett Milligan, an office assistant who also works with the particular campers, is an UW-Madison student studying history and schooling studies and also attended Camping Shalom as a youth. He said the camp is a chance to learn interpersonal, teamwork and sportsmanship skills that might not be possible at school.
Milligan said he hopes the campers meet lifelong friends, as he did.
"It's really amazing to watch those bonds get formed, " he said.
Savannah Lipinski, senior counselor and song leader for the winter get away, is studying environmental geology and Jewish studies at UW-Madison and has plans to go to rabbinical school to become a rabbi. Lipinski grew up in Colorado but heard of Camp Shalom through her connection to the Jewish community in Madison.
Lipinski is interested in environmental education and ways that Judaism values, such as being stewards of the environment and not being wasteful, can be part of it.
"These Jewish values are underpinning the activities we do without making non-Jewish campers feel excluded, " the girl said.
She said the wintertime camp is an opportunity to fall in love with the camp experience again and see the camp facility in a different light.
As for the camp's benefits, Lipinski stated, "I hope they're producing some new friends probably first and foremost. "
Each Monday, the Wisconsin State Diary features a story about learning in Wisconsin. Here are School Spotlight stories from the past year.